Tray Dryer Manufacturer in India
We supply Tray Dryer that is adequately designed by our designers and adroit personnel who take every care in the fabrication of a durable and highly efficient range of machines. Available in various models such as 12 trays, 24 trays, 48 trays, 96trays, these are high in performance and low on maintenance. The major problem in calculations on real dryers is that conditions change as the drying air and the drying solids move along the dryer in a continuous dryer, or change with time in the batch dryer. Such implications take them beyond the scope of the present book, but the principles of mass and heat balances are the basis and the analysis is not difficult once the fundamental principles of drying are understood.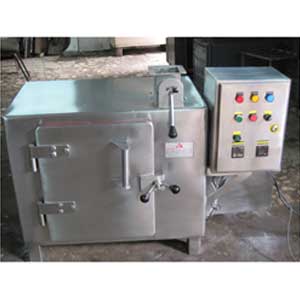 Obtaining adequate data may be the difficult part. In tray dryers, the food is spread out, generally quite thinly, on trays in which the drying takes place. Heating may be by an air current sweeping across the trays, by conduction from heated trays or heated shelves on which the trays lie, or by radiation from heated surfaces. Most tray dryers are heated by air, which also removes the moist vapours. The significant traits of our exclusive array include the following: Models: 12 trays, 24 trays, 48 trays, and 96 trays Construction-
Robust construction
Built on formed angles of 3mm thick sheet and suitably reinforced with angles and sections
External walls are manufactured from 1.6mm thick stainless steel sheets of 304 qualities
The internal of the dryer is built of 1.6 mm thick s.s 304 quality sheets insulated with minimum 50 mm thick glass wool insulation and caddied with s,s, polished sheets
Fresh air inlet through 20 micron pp cloth filters and a adjustable air outlet flap and a door at the front
Explosion proof door is locked with the help of spring loaded ball latches with suitable pressure.
To prevent leakages door lips are having neoprene rubber gasket.
Finishing-
Designed and manufactured as per GMP standard
Aesthetic look
Buffed externally to 150 grit matt finish
Internally buffed to 220 grit mirror finish
Electrical heating-
The Air inside the Tray Dryer is heated by "U" tube S.S.304 air heaters each of 1 KW.
The heaters are fitted on the sides of the dryer to facilitate uniform heating.
Maximum temperature attained inside the dryer is 100′ C
The temperature is indicated and controlled by a Digital Temperature indicator cum controller over full range of heating load
 
To prevent the heaters from becoming red hot these are inserted inside tubular pipe
The terminals of the heaters are brought outside the dryer to make it safer for operations for solvent based products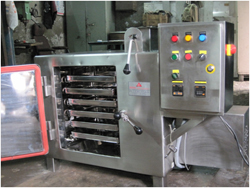 Technical Specifications
| | | | |
| --- | --- | --- | --- |
| Model | BPE-24 | BPE-48 | BPE-96 |
| No. Of Trays | 24 | 48 | 96 |
| Tray size | 16 x 32 x 1.25 | 16 x 32 x 1.25 | 16 x 32 x 1.25 |
| Motor | 0.5 HP | 1 HP | 1 HP No of 2 |
| Electric Heater | 9 K.W | 14 K.W | NA |
Tray Dryer Manufacturer and Supplier The most popularly known and used batch dryer is a vacuum dryer and we are a well-known Tray Dryer Manufacturer and Supplier. They are shaped in a box structure. The medium flowing through the heating plates is water, steam or thermal oil. The gap between the heating plates is invented primarily by the surface loading and the foaming of the product. To void retrograde condensation the cabinet walls are indirectly preheated by the heating plates. We, Tray Dryer Manufacturer and Supplier offer you this Vacuum Tray Dryers at very reasonable rates. Vacuum Tray Dryer offered by us, a Tray Dryer Manufacturer and Supplier comprise perfectly designed and excellent functional range of Vacuum Tray Dryer (VTD) that find propriety in dehydrating of materials under sharp temperature. Coming with possibility of sterilization prior to drying process, this dryer eliminates configuration damages of drying materials and are suitable for use in various industry sectors. We are the Tray Dryer Manufacturer and Supplier of quality verified Vacuum Tray Dryer. Catering to its unique features like high corrosion resistance and an applauded load bearing capacity, this product is highly reputed and demanded by our valuable clients. This tray dryer is manufactured by us, a Tray Dryer Manufacturer and Supplier using top quality raw material following industry defined guidelines.
Tray dryer Manufacturer Supplier and Exporter in India