Home
 / Ointment Unit Plant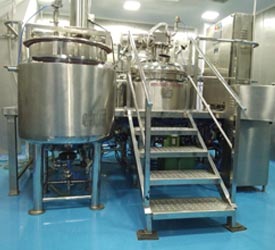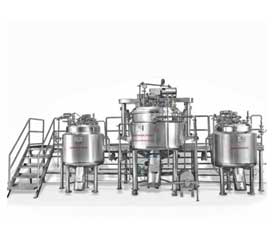 Ointment is a semi solid product in the form of Ointment, Lotion, Cream, Gel, Tooth Paste, Emulsions or any homogeneous product like wax which is not purely liquid. Ointment manufacturing plant has wide industrial applications in pharma as well as other allied product processing in same or similar segment. These plants have huge demand in premium cosmetic manufacturing industry.
We are leading manufacturer of Ointment manufacturing plant of world class structure at our state of art unit. We provide excellent modular system with advanced processing technology & reliable quality assurance at each and every step. This is possible only with the extensive innovations ideas by our dedicated technical team to manufacture ergonomically designed Ointment plant.
It is specially designed to take care of two critical factors which directly affects the quality of the Ointment or Creams.
Needless to say, it also provides the benefits of the effective manpower utilization.
High sanitary standard Design & Manufacturing
Internal surface Mirror polished to less than 0.5 Micron RA
Double Speed contra-mixing slow agitator with step less speed control
Inbuilt/Inline High speed Homogenizer
Hydro Lift top covers
SS 316L contact parts & SS 304 Non-contact parts
High standard Automation System
Qualification Documentation like DQ, FAT & Protocols of IQ & OQ
Smooth processing with low Shear force
Teflon scrapping mechanism with Agitator
Internal/External re-circulation system
The Plant is designed to be operated only by one operator and one helper.
All material transfers are done by vacuum or by transfer pumps.
All the vessels are cGMP
Silicon (food grade) gasket Used.
All contact parts are made of S.S. 304 quality material (SS316 provided on demand) & finished to class 4B (Mirror) finish and are crevice free.
All pipes, pipe fittings and valves are made of SS304 / SS316 ( as per customer requirement ) seamless quality, internally electro polished, with tri-clover ended joints.
The entire plant is equipped with CIP & SIP connections, so that customer can use these facility, if have CIP & SIP equipment.
All the inlet & outlet connections are provided with tri clover joints, which are very easy for cleaning & replacement.
Our Ointment plants are suitable for small to large capacity i.e. 25 to 10000 kg which makes the unit more versatile.
The working platform of unit is designed in such a way that it provides easy access to manpower & tools while normal working as well as during preventive maintenance. Platform is free from rust, rigid in construction and anti slipping embossed to avoid any accident considering the industrial safety feature.
Suitable for various distinguished viscosity levels. Because some creams requires special bottom mixer in combination with stirrer or scrapper assembly which is available in our Ointment plants at option with variable speed control.
Vacuum Homogenizer Mixer Vessel, Vacuum Pump, Storage Vessel etc provides uniform mixing of ingredients at requisite levels which can be customized as per requirement of end user.
The interconnecting pipe lines may be designed as per layout which is electro polished from inside for free flow of raw material, recirculation pipes and allied pipes are connected with leakage proof couplings to main vacuum pump pipes to avoid wastage of material at every stage of plant which saves huge manufacturing cost.
We provide integrated automatic control panel and high grade insulation to shock proof wiring which is additional feature in safety point considerations. Batch data recorder is also available which provide at glance information about operating time and related logistic requirement which saves huge calculation time of operator.
Ointment Unit Plant manufacturer supplier Exporter in india.